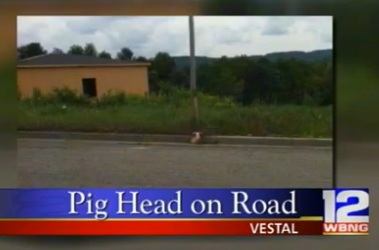 Some residents are upset over the placement of a pig's head near a mosque under construction in Vestal.
A resident said they spotted a severed pig's head Sunday morning on Sheedy Road. The pig's head remained there for most of the day. The nearby mosque is expected to open in April of next year.
Vestal police could not be reached and town Supervisor John Schaffer declined comment.
The local president of the Ahmadiyya Muslim Community said he believes it may have been intentional. "We don't have any ill will toward anybody who did this," said local Ahmadiyya Muslim Community President Afzhal Rehman. "This is a house of God, and if anybody has any ill will toward a house of God, the matter is between them and God."
Rehman said the town and neighbors have been very supportive of the local Muslim community.
As of 7:30 p.m., the pig's head had been removed.