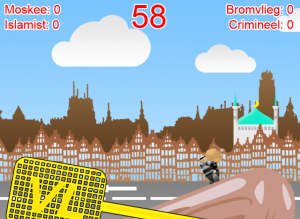 The Antwerp prosecutor has opened an investigation into an internet game published on the website of Vlaams Belang politician Filip Dewinter in the run-up to the May elections.
The game was dubbed Minder, minder, minder (Less, Less, Less), citing Dutch politician Geert Wilders' supporters when asked whether they wanted "more or less Moroccans".
In the game Elio Di Rupo (PS) and Guy Verhofstadt (Open VLD) are represented as flies, which the player can swat. Also among the "enemies" to be swatted are Muslim terrorists and mosques.
Police have received several complaints about the racist nature of the game. This has resulted in the current investigation and Dewinter being questioned.
Dewinter's party, Vlaams Belang, broke the news itself. Dewinter speaks of an "orchestrated deluge of complaints" and "an attack on the freedom of speech and yet another attempt to muzzle Vlaams Belang".
The Interfederal Equal Opportunities Centre, the official agency against discrimination, did not file a complaint. "This is a present we do not wish to give to Vlaams Belang," its director, Lode De Witte, said before the elections. He prefers to compile a comprehensive case before filing a complaint.
---
Dewinter's internet game cane be checked out here. As you can see, it opens with the slogans "Less immigration!", "Less criminality!" and "Less Islam!", summarised as "Less, Less, Less".