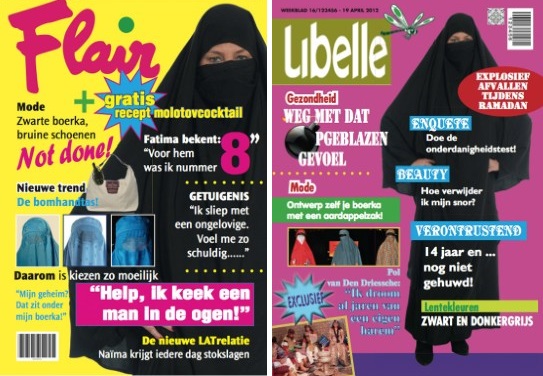 The Helsinki-based company Sanoma Media is threatening to take action against the Belgian far-right party Vlaams Belang for circulating fake front pages of the magazines Flair and Libelle featuring women in veils and burqas.
VB is protesting against the magazines' refusal to accept adverts for the book Hoer noch slavin – vrouwen en islam ("Whore or slave – women in Islam") by Anke Van dermeersch, who is leader of the Vlaams Belang group in the Belgian Senate.
VB leader Filip Dewinter has accused Sanoma Media of upholding "the misogynistic views of Islam". He defended the fake covers, which associate Muslim women with firebombs and grenades, as merely a "humorous parody".
Last year VB was successfully sued by French footwear designer Christian Louboutin over the use of his shoes on an anti-Islam poster.
Meanwhile, in an effort to generate further cheap publicity for her party and boost its election campaign, Anke Van dermeersch has issued a leaflet featuring a photograph of herself in a revealing swimsuit, accompanied by the slogan "Burqa or bikini? The choice is clear!"
The purpose of this campaign literature, Van dermeersch claims, is to "warn against the consequences of the Islamisation of society", which threatens "the freedom of women to dress as they wish".