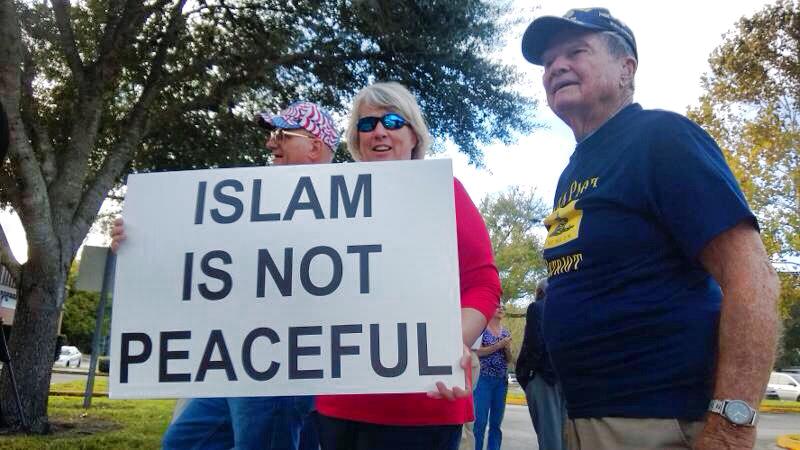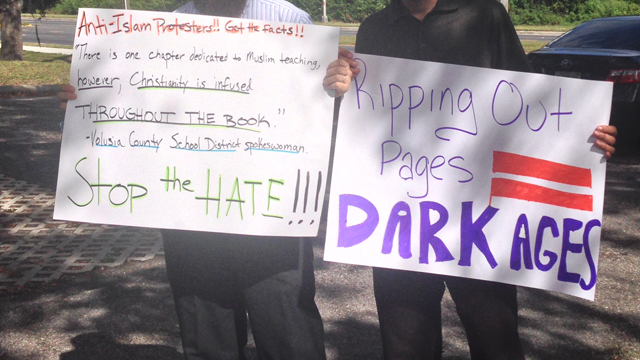 A Volusia County School Board meeting where protesters planned to raise objections to the way a high school history textbook portrays Islam was canceled before it started Tuesday after the U.S. Department of Justice passed along information that raised "substantial safety concerns" among school officials.
The announcement came as about 75 demonstrators gathered outside the School Board office, engaging at times in heated debates about how public school textbooks should deal with religion.
That debate will now be left to another yet-to-be-determined day when the School Board will meet with additional security measures in place, according to a statement released late Tuesday by district spokeswoman Nancy Wait. Longtime board observers could not remember another time when a meeting was canceled over security issues.
"While the district does not comment on security procedures, there was no specific threat of violence in this matter," the district statement said. Two School Board members, though, said they understood from Superintendent Margaret Smith there was a "credible threat of violence" at the School Board meeting.
"We had a building full of employees. … To put people at risk, we couldn't take that risk tonight," School Board Chairwoman Diane Smith said in a later interview.
School Board members were escorted from the building accompanied by law enforcement officers and senior staff. Employees who work in the office complex where the board meets were sent home about 4 p.m.
Protesters who had come carrying copies of "World History" published by Prentice Hall to back up their claims the book is biased in favor of Islam lingered in the parking lot afterward, continuing their debate over how religion should be taught in public schools.
Rick Sarmiento, a Lake County political activist, organized Tuesday's rally through social media with the help of Tony Ledbetter, chairman of the Volusia County Republican Executive Committee.
News reports about their plans also attracted pro-Islam representatives who came to talk about the need for teaching Volusia students about diverse religions.
"We're here in support of educating our youth and learning about each other instead of promoting fear and hatred of each other," said Hassan Shibly, executive director of the Tampa chapter of the Council on American-Islamic Relations. "We can disagree with each other on political and religious issues rather than picketing and witch hunts and all that. We can't afford all the hatred."
Barbara Delaney of Orange City, mother of a sixth-grader, held a handmade "In God We Trust" sign at Tuesday's rally. "They don't allow God in school and they're going to teach a whole chapter on Muslims? No," she said.
The thousand-page "World History" book includes a 32-page chapter on "Muslim Civilizations" that some protesters believe is an attempt to indoctrinate students into Islam. While the book also includes multiple passages about Christianity and Judaism, protesters say they don't get equal treatment. The book, which drew similar protests in Brevard County this summer, is not used in Flagler County.
Volusia's superintendent has defended the book and the district's curriculum as a balanced approach to teaching about religions while not promoting one over another.
School Board members interviewed Tuesday night said they welcome the chance to hear about the textbook concerns at a future meeting.
Smith, the chairwoman, said she believes the security concerns that forced the cancellation of Tuesday's meeting are symptomatic of a national debate with dangerous overtones.
"We are becoming less and less tolerant of other religions and cultures," she said. "We are becoming such an angry group of people. It bothers me deeply, but this is the rhetoric of our country."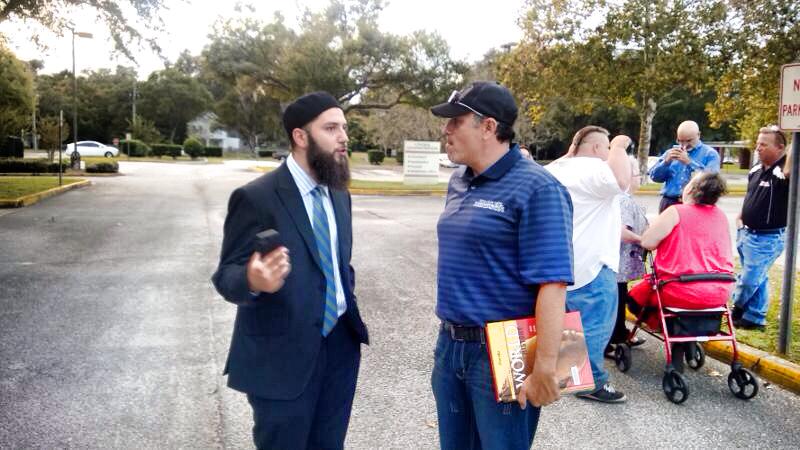 Hassan Shibly of the Council on American-Islamic Relations tries to reason with anti-textbook protestor