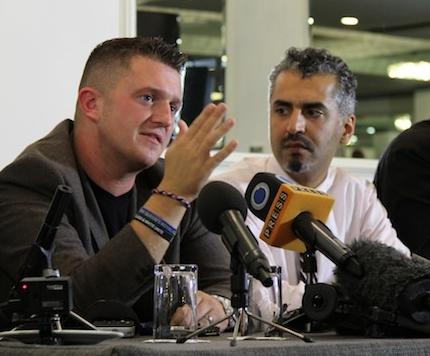 Political Scrapbook has an interesting article on the financial problems faced by the Quilliam "counter-extremism" organisation before they jumped into bed with former English Defence League leader Stephen Lennon ("Tommy Robinson").
Quilliam rejected the suggestion that they were threatened with closure before forming their risky but high-profile alliance with Lennon. But Scrapbook reproduces figures released by the Home Office this week in response to an FOI request, which they say "expose the precipitous collapse in public funding for the group".

This in fact adds little to what we learned last year from an earlier FOI request (though for some reason the figures are not exactly the same). In any case, the Home Office was not the only source of funding for Quilliam – they received even larger sums from the Foreign and Commonwealth Office.
In the course of a parliamentary debate in March 2011, Home Office minister Damian Green stated that Quilliam had received nearly £1.2 million in Prevent funding from the Home Office over the previous three financial years. He revealed that, in addition, the Foreign Office had provided nearly £1.5 million in project funding over the same period.
The question was – did the Foreign Office continue to provide financial support to Quilliam even after the Home Office funding was withdrawn? The answer is – evidently not. Another FOI request, asking for details of the Foreign Office's financial support for Quilliam, received a reply last month, which referred to Damian Green's statement in the Commons debate and confirmed that "no further funding has been provided by the FCO to the Quilliam Foundation since 2011".
So, yes, it would appear to be the case that Quilliam has indeed lost its major sources of state funding and has not received a penny from either the Home Office or Foreign Office since April 2012.
Was this, then, why Maajid Nawaz and his colleagues went for the high-risk tactic of adopting the former EDL leader as a trophy convert from extremism? I think it very likely was, though whether Quilliam could realistically hope to win favour (and renewed financial support) from the government itself through this stunt is questionable.
During the parliamentary debate in 2011 a number of Quilliam-supporting MPs (Tory, Labour and Lib Dem), who had obviously been briefed by Nawaz and his friends to argue Quilliam's case, urged the government to at least provide £150,000 worth of transitional funding over the following year. The government emphatically rejected that demand. They had clearly come down firmly against any further financial commitment to Nawaz's organisation.
I very much doubt that Quilliam are going to change the government's mind by parading as a supposed recruit to moderation and respectability the clearly unreformed ex-leader of a gang of racist hooligans, who is moreover a convicted criminal currently facing a possible prison sentence for mortgage fraud.
Whether Nawaz and his friends can convince some non-state sources to cough up money on the basis of this con-trick is another matter. But with "Tommy" as yet showing little sign of renouncing the extremist views he proclaimed when he led the EDL, you would have thought they'd find that a bit difficult.
But then again, it depends on where Quilliam are looking for potential benefactors. Just recently a friendly interview with their head of research, Ghaffar Hussain, appeared on the website of the Clarion Project (formerly the Clarion Fund), a hardline right-wing US outfit that has been responsible for producing rabidly Islamophobic "documentaries" such as Obsession and The Third Jihad.
Quilliam were so pleased with the interview that they crossposted it on their own website, as a result of which they came in for some sharp criticism, notably from Mehdi Hasan of HuffPo UK. They then quietly removed the post, without explanation, though not before I took a screenshot.
So could it be that Quilliam are sounding out sections of the US "counterjihad" network for possible financial backing? It might seem unlikely but, frankly, I wouldn't put anything past Quilliam.