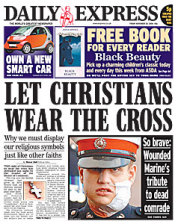 With a front-page article carrying the strap "Why we must display our [sic] religious symbols just like other faiths", the Express continues its campaign to utilise BA's foolish and indefensible ban on one of their employees wearing a visible crucifix in order to incite bigotry against Muslims:
"The right of Christians to wear the cross was defended last night by the Leader of the House of Commons. The row over the British Airways' ban grew as MPs heard that all Britons should be able to display their faith.
"Jack Straw, the Commons Leader, said the airline's controversial dress policy was 'inexplicable'. And he demanded fair and equal treatment for all religions. His Commons outburst made him the most senior Government figure yet to wade into the debate over the airline's ban on visible Christian and Jewish symbols while allowing female Muslim employees to wear headscarves.
"Passengers around the world are joining a growing boycott of BA over the company's treatment of check-in worker Nadia Eweida. She is refusing to work after bosses ordered her not to wear a cross the size of a five pence coin that was visible to passengers. The ban has fuelled criticism that non-Muslims are being treated unfairly by 'politically correct' busybodies who pander to perceived Islamic sensibilities."