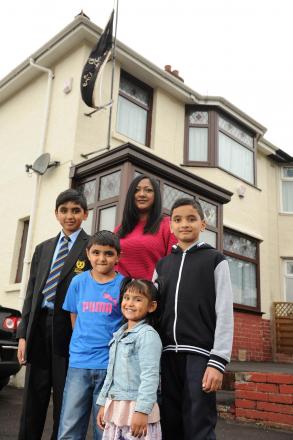 A mother flying a black flag outside her family home in a quiet suburban street has told her neighbours: "We are not supporting Islamic State."
Shazia Ramzan, 35, shocked her neighbours when she raised what looked like the black flag of jihad in her street. Passers-by threatened to call the police after Prime Minister David Cameron said anyone seen with the Shahada flag should be arrested.
But mum-of-two Shazia said it was not the same banner used by the terrorist organisation – and she branded IS as "scumbags".
She said: "We did not want to cause any grief by putting the flag up. But I'm scared that our house will be bricked. Islamic State are scumbags. Islam does not say what they proclaim; Islam is beautiful and a true religion when followed correctly. They are not Muslims. True Islam does not say anything Islamic State does."
Shazia hoisted the Abbas flag at her semi-detached home in Newport. The large flag honours Muslim martyr Al-Abbas with white lettering on a black background.
The flag looks similar to the one flown by jihadists – which reads "There is no god but God, Muhammad is the messenger of God". But Shazia and her family are Shias unlike Islamic State who are made up of militant Sunni fighters.
She added: "People see the black flags and Islamic State immediately comes into their heads. "I just want them to know that we have nothing to do with IS."
South Wales Evening Post, 20 October 2014
See also "'My flag is not the flag of IS' – Newport mum flying Islamic flag outside her Newport house", South Wales Argus, 20 October 2014
Update:  The story has been taken up by the Daily Express. Here is a selection of readers' comments: