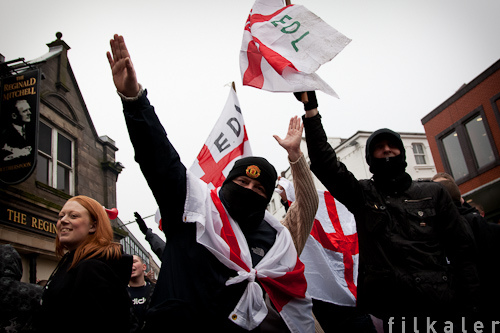 Double-decker buses started arriving at Wetherspoons in Hanley city centre shortly after noon. The passengers shouted "England, England, England" and "EDL, EDL, EDL". Two were arrested within seconds of them getting off the bus. "I'm English 'til I die, English 'til I die," was the next song, one of many chanted by the protesters throughout the afternoon.
Although many had travelled from the other side of the country, the Potteries was well represented. Adam Daniels, aged 23, from Tunstall, said: "We want equal opportunities. They seem to get housing before us." Daniel Lucas, aged 28, from Ball Green, said: "The door should be shut to this country because it is full. We are a minority in our own community."
Forty-two-year-old John Sanders, an HGV driver who travelled from Bristol, said: "I am here because Islam is taking over the country." Former Stoke-on-Trent city councillor Jenny Holdcroft, aged 60, from Biddulph, said: "People have to come out and be strong and stand together because if not, we are going to lose this country."
Several people hurled bottles and other missiles towards police. Some men jumped on the top of a bus stop outside Argos while two youths could be seen showing off with a police helmet on the top of the arcade roof. There was another surge towards the officers when they went to arrest those youths.
Lines of police stopped the mob walking down Percy Street and into the city centre. Thugs tried to tip over a yellow police van, brought in from Warwickshire, and one hooligan jumped on the bonnet and repeatedly kicked the windscreen until it smashed.
Paul Walker, spokesman for EDL Stoke-on-Trent, said he was upset by the trouble. He said: "EDL members have been antagonised by the police. We are not racist, not bigots, not Nazis, we are shocked how we have been portrayed."
---
See also Lancaster Unity, which reports:
"EDL say they support British laws and that they're not racist or connected to the BNP, but after the EDL demo in Stoke on 23 Jan 2010, EDL supporters 'dispersed' into side-streets to break windows and attack cars owned by Stoke residents. EDL co-founder and convicted knife criminal Jeff Marsh filmed the police ID-ing him by name (0:02 'Jeff Marsh, turn round and go back') and then filmed EDL supporters chanting 'BNP, BNP, BNP' (0:26). Police then chased the EDL into a nearby park where EDL accused police officers of being 'Paki loving bastards' (0:35), 'Fucking cunts', and one officer of being a 'wanker' and 'Fucking paki lover'."