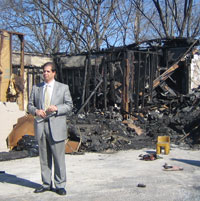 NASHVILLE — One of three people who pleaded guilty to the firebombing of a Columbia mosque in 2008 was sentenced to just more than 15 years in prison.
Eric Ian Baker, 34, pleaded guilty in September to charges of destruction of religious property and using a fire to commit a felony.
According to a federal indictment and testimony, Baker tagged the Islamic Center of Columbia with swastikas and the words "White Power" while co-defendants Jonathan Stone, 20, and Michael Golden, 24, torched it with Molotov cocktails. Baker then helped spread the fire and stole a stereo system.
In federal court in Nashville on Thursday, Baker's attorney Ray McGowan argued unsuccessfully that his client had been unfairly characterized as the leader of a loosely organized white supremacist group and an organizer of the firebombing scheme.
Co-defendant Stone testified at the hearing that Baker had given him a swastika tattoo on his chest. He also said that after they were in jail Baker instructed him to write in a letter to Stone's brother that the brother should "recruit new members so that when we get out we will have an army."
Judge Robert Echols gave Baker a shorter sentence than the one recommended by guidelines. He offered several reasons for this, including the fact that Baker had avoided any serious trouble with the law for the 10 years before the mosque burning.
Daoud Abudiab, president of the Islamic Center of Columbia, said he would have expected a longer sentence, given that Baker was thought to be the group's leader.
Stone and Golden both pleaded guilty to the same charges as Baker. Golden was sentenced to 14 years in prison. Stone has not yet been sentenced.