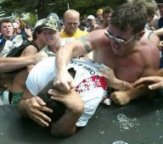 Five white supremacists have been arrested carrying material to build petrol bombs, enabling police to claim they were vindicated after locking down more than 200km of beaches to prevent a repeat of Sydney's ugly race riots.
The men, dressed in camouflage gear, were caught yesterday in the southern suburb of Brighton-le-Sands carrying equipment to make Molotov cocktails including 25l jerry cans filled with petrol, as well as commando-style utility belts and Kevlar helmets.
The lockdown occurred on a perfect summer weekend when many Sydneysiders were winding down ahead of Christmas and forced Premier Morris Iemma to deny the gangs had won the battle. Police officers also found car stickers promoting the white supremacist movement in the men's car.
The Australian, 19 December 2005
---
Meanwhile, in today's Observer, Australian novelist Gabrielle Carey explains: "The war is essentially between one group of macho men and another. The hatred and bigotry shown by the blond Cronulla boys is equalled by that demonstrated by their enemies, 'the Lebs'."