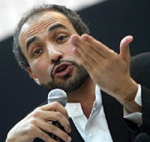 MONTREAL — This charming, erudite Muslim scholar is secretly out to destroy the free world. That pretty much sums up the message critics of Tariq Ramadan sent Thursday at a press conference on the eve of two lectures by the controversial Oxford University professor at the Palais des Congrès.
"Tariq Ramadan has come here to make sure our children become the fifth column against Western civilization," Tarek Fatah, founder of the Canadian Muslim Congress, told the conference organized by Point de Bascule, a group opposed to Islamic fundamentalism.
On his last visit in November, the organizers of Thursday's press conference sponsored a full-page advertisement in Le Devoiraccusing Ramadan of hiding his true views on Muslim fundamentalism behind a facade of moderation. That didn't stop more than 800 people from attending the sold-out speech.
Update:  Cf. the report of Professor Ramadan's speech in the Montreal Gazette, 16 April 2010
Further update:  See also "Tariq Ramadan, 'stealth jihadist', exposed!", LoonWatch, 16 April 2010