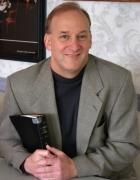 A Wichita pastor who preaches against Islam has been ordered to stay 1,000 feet away from the Islamic Society of Wichita after he was arrested while distributing Bibles in front of the center.
Mark Holick, pastor of Spirit One Christian Ministry, was also ordered Thursday to serve a year of unsupervised probation and pay a $300 fine for loitering and disrupting a business.
Holick was arrested in front of the society in August 2010 while he and a dozen followers handed out Bibles, the Wichita Eagle reported. Police said they arrested Holick after he ignored a request to move to a public sidewalk. "The only reason you were the one arrested is because you were the only one who disobeyed the police orders," Sedgwick County District Judge Phil Journey told Holick.
Holick was found guilty last month in Wichita Municipal Court on two counts of loitering and disrupting a local business. The case moved to county court after he appealed that conviction.
During Thursday's hearing, Holick quoted Bible verses and accused the city of violating his First Amendment rights. "Wichita is confused," Holick said. "I am not your enemy. Islam is. The Lord said there will be no other gods before me."
Associated Press, 2 September 2011
Holick's own account of his arrest can be found here: "I, an American/Wichita born, Wichita raised, Christian citizen am being forced by my own government to stand trial for the crime of preaching the Gospel of our Lord. And the governments witnesses against me are my own government and an Islamist. America is devouring itself."