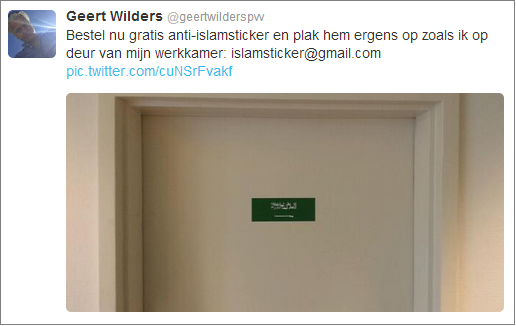 A tweet from PVV leader Geert Wilders featuring an Anti-Islam slogan written in Arabic has drawn the ire of many on the social network.
Wilders, who last week told the BBC, "A responsible politician I believe never stirs up any problems in any society," was showing off a bumper sticker affixed to his office door.
The sticker is designed to look like the flag of Saudi Arabia, and says, "Islam is a lie. Mohammed is a crook. The Quran is poison," reports Hart van Nederland. Wilders tweeted out an email address where the sticker may be ordered for free.
Many responded to Wilders accusing him of being no better than the Nazis, while Twitter user Nimueh asked, "Isn't this rhetoric a bit old and boring now?"
Marina Alings asked if Wilders could "place the anti-Islam sticker on his mouth," while others asked for a reprint of the anti-Wilders stickers handed out by the group, Anti-Fascistische Actie, in 2010.
Update:  See "Government condemns Wilders' Saudi flag anti-Islam sticker", Dutch News, 20 December 2013