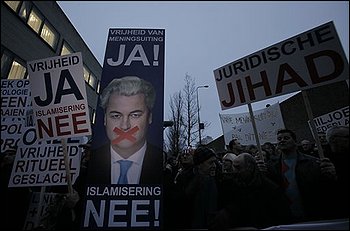 Supporters of Dutch anti-Islam politician Geert Wilders are demonstrating outside an Amsterdam court where he is appearing to answer charges of inciting hate against the Netherlands' Muslim minority.
Wilders' lawyer Bram Moszkowicz has challenged the court's jurisdiction and argued the case against his client is unfounded.
Wilders has been charged over remarks comparing the Quran to Hitler's "Mein Kampf" and calling for it to be banned in the Netherlands. He has become one of the country's leading politicians by giving a voice to anti-immigrant sentiment.
Presiding Judge Jan Moors assured Wilders on Wednesday he would receive a fair trial.
Supporters outside the court said Wilders' prosecution is an assault on freedom of speech.