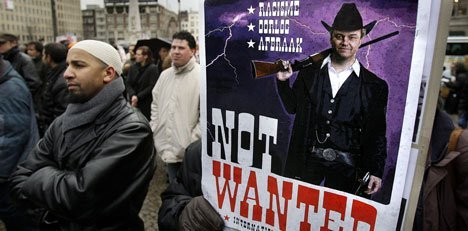 A ban on headscarves for city council workers and in all institutions and clubs which get local authority money will be the most important point in the PVV's negotiations to join governing coalitions in Almere and the Hague, says party leader Geert Wilders.
Speaking to RTL news, Wilders said the ban would be central to talks to form new local authority executives in the only two cities where the party is contesting the March 3 local elections. The ban will apply to "all council offices and all other institutions and clubs which get even one cent of council money," he said.
The PVV is tipped to emerge as the biggest party in Almere and second biggest in the Hague.
Wilders brought up the ban again in a speech to supporters in Almere, where he entered the room to the Rocky theme tune Eye of the Tiger.
The ban will not apply to other religious items such as Christian crosses and Jewish skull caps because these are symbols of our own Dutch culture, Wilders said in his speech, receiving a standing ovation from the crowd.