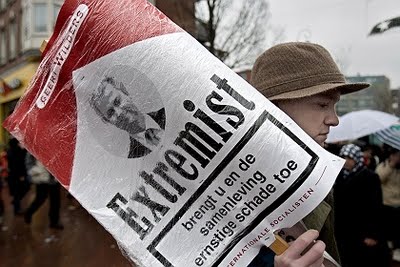 A member of the Dutch Parliament who was banned last week from entering the United Kingdom because of his inflammatory anti-Islamic views is about to be welcomed to the United States by some notable conservatives.
Geert Wilders – who has publicly compared the Koran to "Mein Kampf" – is scheduled to make public appearances in Washington next week, including a Feb. 27 press conference at the National Press Club. Wilders is seeking to promote his movie "Fitna," an incendiary short documentary film that depicts Islam as a religion of terrorists.
The chief sponsor of Wilders's National Press Club event is Frank Gaffney, a former Reagan administration Pentagon official who now runs the Center for Security Policy, a prominent neoconservative think tank. Others who hope to meet with Wilders include David Horowitz, a well-known conservative activist who promotes campaigns to fight Islamic extremism.
But Wilders's U.S. tour seems to be testing the limits of free speech even among hard-core conservatives. Some seem to be keeping their distance – apparently fearful of associating with a right-wing political figure widely seen in Europe as a dangerous extremist and self-promoter. The organizers of next week's Conservative Political Action Conference (CPAC) in Washington – a splashy gathering with prominent speakers like GOP Chair Michael Steele and former presidential candidate Mike Huckabee – have yet to decide whether Wilders will be welcome to speak.
David Keene, the president of The American Conservative Union and an organizer of the conference, at first told NEWSWEEK that he could not accommodate Wilders because all the speaking slots were booked. But after conferring with Gaffney over the weekend, he said he would seek to find time for a brief presentation. "If we can free up five or 10 minutes, we'll see if we can let him speak," Keene said.