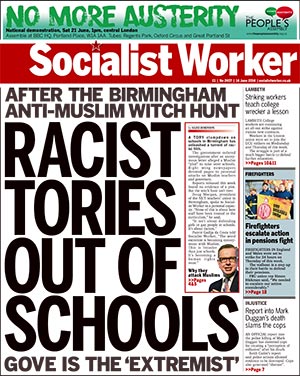 A Tory clampdown on schools in Birmingham has unleashed a torrent of racist filth.
The government ordered investigations after an anonymous letter alleged a Muslim "plot" to take over schools. Right wing newspapers devoted pages to personal attacks on Muslim teachers and governors.
Reports released this week found no evidence of a plot. But the witch hunt isn't over.
Doug Morgan, president of the NUT teachers' union in Birmingham, spoke to Socialist Worker in a personal capacity. "None of this is about how staff have been treated or the curriculum," he said. "It isn't about defending girls or gay people in schools. It's about racism."
Parent Gadija da Costa told Socialist Worker, "The word extremist is becoming synonymous with Muslim. This is broader than just schools. It's becoming a human rights issue."