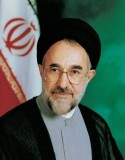 Since Gemma Tumelty took over as president of the National Union of Students earlier this year the NUS has taken a sharp turn to the right. We've already witnessed the NUS executive voting down a motion that called for an immediate ceasefire during Israel's war against Lebanon and censuring George Galloway for backing Hizbollah in its resistance to Israeli aggression. (The NUS executive evidently had no problem with anyone supporting Israeli state terrorism against the Lebanese civilian population.)
If further proof were needed of the mistake made by FOSIS in blocking Pav Akhtar's election as president, we now have leading figures in the NUS calling for public protests against St Andrews University's decision to award an honorary degree to former Iranian president Mohammad Khatami duting his visit to the UK later this month.
The first NUS executive member to be quoted in a Sunday Times article witch-hunting Khatami ("Fury as St Andrews honours Hezbollah backer") is, significantly, Sophie Buckland – a supporter of the rabidly Islamophobic pseudo-left sect the Alliance for Workers' Liberty.
The Sunday Times piece claims that Khatami "maintains close links with Ahmadinejad's hardline regime" and quotes Mark Thomas of the Royal United Services Institute as saying that "Khatami is being used as a tool of diplomacy which is designed to capitalise on his reputation as a reformist". This ignores the fact that Khatami has publicly opposed the present Iranian leadership, notably when he came out against Ahmedinejad's questioning of the Holocaust (see here). Furthermore, Khatami was attacked by supporters of the Iranian government over his recent visit to the US – at the personal invitation of Kofi Annan – and his visit to the UK is predicted to provoke similar criticism (see here).
Of course, the consequence of Khatami's visit to the US – where he spoke at Harvard University and addressed a conference sponsored by the Council on American-Islamic Relations called "The Dialogue of Civilizations: Five Years After 9/11" – was to severely undermine the efforts of the Bush regime to demonise Iran. His visit to the UK can play a similarly progressive role. And that, of course, is why the NUS right wing and their "left wing" allies are so hostile to him.