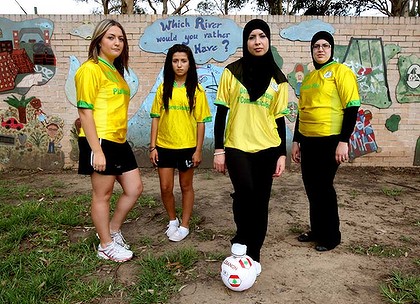 Muslim Lakembaroos are free to wear the hijab when they take to the soccer field in club competitions in Sydney every week.
The only thing they need to watch is that their headscarves match their uniforms, just as their male counterparts must wear an undershirt the same colour as their jerseys.
But any young Muslim Lakembaroo with aspirations of making the Matildas and going to an Olympics knows her career may never get off the ground under FIFA laws banning the hijab in international competition.
It happened to the goalkeeper in the Jordanian national team, who was forced to watch from the sidelines as her teammates made a bid to qualify for London last year, and it prevented the entire Iranian team participating in the first qualification round.
"I've always wanted to represent Australia in football but it would be devastating if I was told I couldn't represent my nation on an international scale because of the faith I follow and its requirements," Assmaah Helal, 25, who plays for the University of NSW in the Sydney Super League, says.
"It wouldn't only hinder [young players] from playing internationally, it might domestically too, because they might think 'If I'm not supported playing for my country then why should I bother'?" A meeting next month of the board that sets the laws of international football will for the first time consider a request to overturn FIFA's ruling.
This has taken three separate meetings, the backing of one of FIFA's vice-presidents, Prince Ali bin Hussein of Jordan, and the advocacy of a Sydney solicitor, Moya Dodd, who is vice-president of the Asian Football Confederation.
Ms Dodd says neither of the two justifications used by FIFA – a reluctance to allow religious symbols and a fear material around players' necks is a health hazard – no longer stack up.
"New designs … have a velcro join at the neck which will release if the headscarf is pulled, so there's no risk of medical injury and there seems to be no other reason to prevent people participating while wearing a headscarf," she says.
Players can now wear a modified covering that conceals the head in a similar way, but leaves the neck and the sides of the face exposed.
The AFC maintains the hijab is not a religious symbol, slogan or statement but an "abidance with culture".
"We must avoid any form of discrimination or exclusion … The football field must be a forum for cultural exchange rather than conflict."