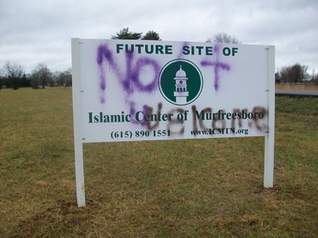 Leaders of the Islamic Center of Murfreesboro said this summer that breaking ground on their mosque would bring relief after a tumultuous year.
But an August target date slipped past, and a lack of contractor interest led to an extended deadline – still open – for construction companies to offer bids to build the new center.
"It's not a secret that we could not get the bids that we would hope to get," said Saleh Sbenaty, a member of the mosque planning committee. "That can be for various reasons. Some contractors are busy … and sometimes you find a contractor who really would like to get the job who is feeling some pressure from the community."
While contractors remain fiercely competitive when most projects crop up, mosque leaders are left wondering why some companies backed out and never returned calls. It's their latest frustration after a year of protests and court hearings over the mosque plans.
Sbenaty and fellow board member Essam Fathy said they extended the bidding deadline and have accepted bids from a wider area, including outside of Tennessee.
Going into the bidding process, mosque leaders believed construction companies would be eager to find work amid the economic downturn – and that is the case on most projects, said contractors in Rutherford County.
But market conditions are not the only factor in play. Fathy said one local contractor backed out of the mosque bidding process after describing pressure inside his church. "He was interested and then he actually said, 'You know what, it's going to be tough for me to do this job…. The pastor is talking about your outfit almost every week, and it would be very hard for me to take the job'," Fathy said.
Contractors may also worry about equipment vandalism at the mosque site on Veals Road off Bradyville Pike, where in August 2010 police investigated a suspicious fire that scorched construction gear. Fathy said security cameras will be installed. "Of course, every (contractor) talked about that," he said. "We need to secure the place."
Since CNN re-aired a documentary about the mosque this month, Fathy has received emails and calls from across the country, including some contractors interested in the project, he said.