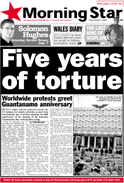 Five years of torture: worldwide protests greet Guantánamo anniversary
By Tom Mellen
Morning Star, 12 January 2007
HUMAN rights activists gathered outside the US embassy in London on Thursday as part of an international day of protest marking the fifth anniversary of the opening of the notorious Guantanamo Bay concentration camp.
Under the fluttering stars and stripes, the imperial eagle and a couple of machine-gun toting police officers, more than 500 protesters, including jumpsuited Amnesty International campaigners muzzled with masks and earmuffs, filled Grosvenor Square, graphically hammering home the daily brutality taking place in the legal black hole.
Amnesty spokesman Neil Durkin said that, "if we allow Guantanamo to continue unopposed, human rights standards all over the world will be eroded." Calling for everyone to show solidarity with those who remain languishing in the camp five years on, Mr Durkin warned that "everyone is at risk of Guantanamo-style treatment."
In Scotland, over 40 Amnesty supporters braved driving wind and rain to protest outside the US consulate in Edinburgh, where they chained themselves together to highlight the suffering of the Guantanamo detainees.
Rallies also took place in New York, Tokyo, Rome, Madrid and Israel, while international peace activists including US "peace mum" Cindy Sheehan and the brother of British citizen Omar Deghayes marched to the US naval base at Guantanamo Bay to demand its closure.
The "icon of lawlessness" has drawn criticism from lawyers and rights activists ever since the first 20 prisoners were transported there from Afghanistan in 2002.
US President George Bush was dealt a blow by the US Supreme Court in June last year, when judges ruled that the military tribunal system at the base was illegal, breaching both the Geneva conventions and US law.
In total, some 775 men have been detained, with just under half – 379 – released. Just 10 detainees have been charged, but none has gone to trial.
Moazzem Begg, who spent three years at the camp, was moved by the protest, saying: "I haven't seen so many orange jumpsuits since I was locked up there." Describing the detention centre as "the darkest blot on the recent history of the US," he said that, although he is now free, "the experiences that I endured there will be with me for the rest of my life.
"Nobody in Guantanamo has been charged with any crime and there is no legal structure for anybody to protest their innocence," Mr Begg complained. He warned that Guantanamo Bay is just the tip of the iceberg, with over 140 "ghost rendition sites" run by the CIA in 70 countries.
The wife of Jamil el-Banna, the Jordanian-born British resident locked up at the camp for four years, took part in the protest with her young son Anas, who had just delivered his fourth letter to 10 Downing Street calling on Mr Blair to help.
Lib Dem MP Sarah Teather, who has taken up Mr el-Banna's case, said that "we must all continue to pile pressure on Mr Blair to win Mr el-Banna's release."
Also among the protesters was World War II hero Patrick Churchill, who wore his many medals with pride and recalled his role in the D-Day landings. "We fought for civilised values, for an end to concentration camps. The irony is that, back then, the US was fighting for freedom, but now look what they are doing – it is a kind of fascism," he said.