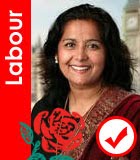 A Bolton MP has backed calls to boycott a bank which closed the account of an Islamic aid charity.
Yasmin Qureshi, MP for Bolton South East, said she will also speak to ministers in the Department for Business, Innovation and Skills about the Ummah Welfare Trust, which was cut off by HSBC after it said providing services for the charity was 'outside its risk appetite'.
The organisation, based in St Helen's Road, has provided medical supplies, support and aid to communities in Gaza, which has been the centre of intense fighting between Israel and militant group Hamas.
Ms Qureshi said it was unacceptable that HSBC should not give more explanation about the decision – and as a customer she will consider changing her bank.
She said: "When I met with representatives from the Ummah Trust they told me it was a complete surprise when they received the letter from HSBC. Because HSBC is in 18 countries across the world and it's a global bank it's the best bank to use, and there's never been any problem.
"It seems it has deliberately picked on the trust because it is doing a lot of work in Gaza at the moment. A similar situation happened in 2008 when again the trust was working in Gaza, during the last time there was a big almighty onslaught from Israel.
"HSBC has given no reason, no explanation, no nothing. I support the boycott, and I think I'm going to have to reconsider my own situation as a customer at HSBC."
A spokesman for HSBC said there was nothing to add to its previous statement. He reiterated that a decision to end a customer relationship is never taken lightly and is absolutely not based on race or religion.
---
Update:  The Stop the Astley Bridge Mosque Bolton campaign has posted the Bolton News report on its Facebook page and added the following comment:

As we have previously noted, the anti-mosque campaign leader, Bryn Morgan of the British National Party, has already announced that he will be a candidate in next year's general election, and it was predictable that he would stand in Bolton South East, Yasmin Qureshi's seat.
Morgan has stated that the North West Infidels, who organised last Saturday's protest against the Astley Bridge Mosque, have agreed to support his candidacy, which will presumably be based on some sort of far-right unity initiative.
The NWI makes no secret of its neo-Nazi and white supremacist ideology, so I imagine local anti-fascists will have a field day exposing the actual forces behind Morgan's election campaign.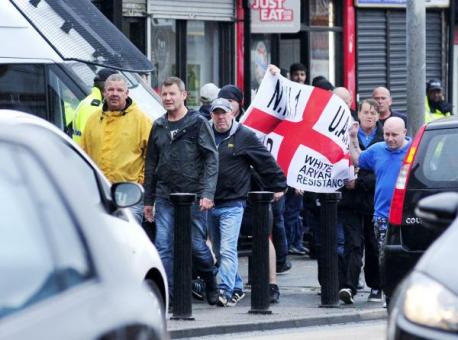 The neo-Nazis of the NWI demonstrating in Bolton last Saturday