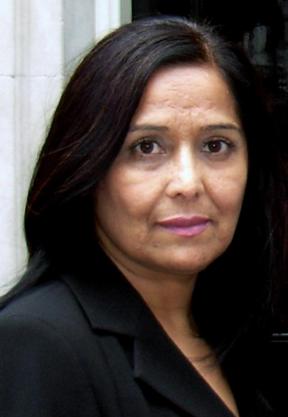 Reports and comments on Muslims by the media and politicians bear the hallmarks of the portrayal of Jews in Nazi Germany, an MP has said.
Labour's Yasmin Qureshi said very similar words to those included in information and literature put out by the Nazis were being used against Muslims in Britain at the moment. She added 99.9% of coverage in newspapers and on television is anti-Muslim, with "complete lies" published on front pages and made-up stories giving people the wrong impression of Islam and its followers.
The Bolton South East MP also told a debate that a lot of people in some parts of the country have "never come across a Muslim person or a black person or an Asian person" and so their views about a particular religion, group or culture will "come from what they read in the paper".
Ms Qureshi, herself a Muslim, spoke out during a debate on the Srebrenica massacre, in which some 8,000 Muslim men were killed in Bosnia in 1995. Addressing what could be done to prevent anything similar happening again, she told the Westminster Hall debate that a recent survey showed 33% of people in the UK think that Muslims are "not really right for this country" and the religion "is not appropriate, they don't belong here".
Ms Qureshi said: "Now, I feel very offended. I wasn't born in England but I was brought up here, this is my country. (There's) three million Muslims out there and I know (because of) the actions of a few, everyone is getting slated with it.
"And there's a lot of people in this country, in parts of the country, they've never come across a Muslim person or a black person or an Asian person, and any information they have about a particular religion or group or a culture or a community will come from what they read in the paper."
Ms Qureshi said this led to people forming their view of a person on images and information rather than from people they have met.
She continued: "I do think in this respect it's great we have free speech and free press, but I think we should have some responsibility because it is this kind of hatred perpetrated by particular groups that leads to what happened in places like Bosnia or happened in the Second World War.
"If you look at some of the information and literature that was being put out by the Germans and the Nazis at the time – very similar words they use against the Jewish people (are) exactly being used against the Muslim people in this country at the moment. In Bosnia and Yugoslavia they had a lot of hatred building up against different groups as well.
"That's why responsibility has to be given not just by established media but even our political leaders because some of them have said things that perpetrates the same images (that) somehow Muslims and Islam is not consistent with a British way of life… and that's the wrong narrative and I do think it needs to be addressed."
Earlier, as she introduced the issue into her speech, Ms Qureshi said: "At the moment in our country, and I don't think for one minute that it's going to lead to that sort of level, but if you look at the media reported coverage on the television, on the newspapers, front page headlines – 99.9% of the coverage is so anti-Muslims.
"A lot of the media actually publish complete lies on their front pages like, for example, the Muslim plot to kill the Pope – a complete lie… and it goes on and on and on.
"There's been independent research carried out throughout a number of different universities which has shown that the constant negativity and making up stories, not telling the truth or putting it in context or perspective have made a lot of people have a very bad understanding of what Muslims are, of what their religion is.
"All religions have some things to answer – they've all got things in them which can be looked at. But I think to concentrate on one group of people and put lies in the way they do is really wrong."