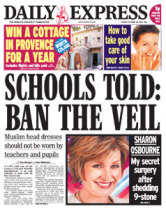 A city with one of the country's largest Muslim populations is to ask schools to ban veils in the classroom.
Education leaders yesterday confirmed that they are drawing up guidelines stating that both teachers and pupils must not wear them during lessons. The school chiefs claim that veils – called niqabs – could stop teachers identifying troublesome children.
They also fear that they could even lead to health and safety problems in Bradford, where around 15 per cent of the 470,000 population are Muslim. Spokesman Anthony Mugan said: "We would advise against the wearing of veils in schools because of reasons which will be listed in new guidelines.
"These will include the problems they could cause in identifying pupils, possible problems with communication and health and safety issues. However, it is up to individual schools to make the final decision as it is with the schools' uniform policies."
The new guidelines are being hammered out between Bradford City Council and a private contractor, Education Bradford, which runs the West Yorkshire city's schools.
Bradford is the neighbouring local authority to Kirklees, where teaching assistant Aishah Azmi was suspended from a school in Dewsbury for refusing to remove her veil in class.
The move comes after a Daily Express telephone poll in which more than 99 per cent of readers supported the call for Britain to follow the lead of many Muslim countries, including Turkey and Egypt, and ban the veil.
Elizabeth Evans, the member of Bradford Education Policy Partnership who represents the city's primary schools, welcomed the new rules. She said: "I would prefer to see the veil removed so that young children can learn by seeing teachers speak properly, but I appreciate people's right to their religion."
But the move was condemned by others, with Bradford Liberal Democrat councillor and education partnership member David Ward calling for politicians to "keep their noses out" of the issue. He said: "Teachers and teaching assistants are there to teach and it should not matter what they wear as long as it does not impede their ability to do the job. Children and teaching must come first."