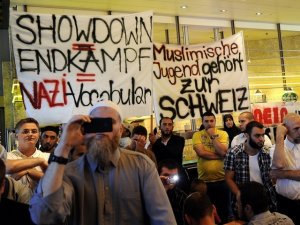 The Swiss news agency ATS reports that the Islamic Youth Association of Switzerland (AJIS) demonstrated on Sunday in Lucerne against the Islamophobia to which they had been subjected.
After being refused premises for a planned seminar in Lucerne and Emmen, the AJIS booked a room above the Lucerne station buffet. But when they arrived there they were told that the room was unavailable because it was being set up for an event the next day.
So between 100 and 150 participants went down to the floor below and occupied the station buffet, where they unfurled banners reading "No to Islamophobia" or "We won't be silenced".
The president of the Central Islamic Council of Switzerland (CCIS), Nicolas Blancho Abdullah, complained of growing restrictions on the rights of Muslims. The planned seminar in Lucerne was a gathering of mainstream Islam, he said.